Governments Must Plan Today for Flexibility Tomorrow in Space
September 12, 2017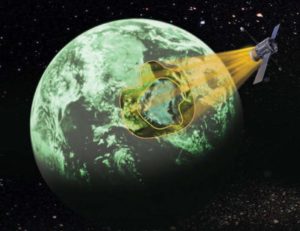 The future of satellite communications is all about flexibility. Innovations are already enabling commercial customers to use satellite for new applications and to achieve business agility. In order to remain preeminent in space, the U.S. government should follow suit and take advantage of the commercial space industry's continual technological development. The time to plan is now.
If the FY 2018 defense budget is any indication, the U.S. government is aware of the need for more flexible, protected, and resilient SATCOM solutions. Myland Pride, Intelsat General Corporation's director of government and legislative affairs, told Via Satellite:
"The funding is an acknowledgement that space is more important than ever to the military, and that is not going to change—in fact, it is only going to increase. With few exceptions, leaders in both the DoD and both parties in Congress recognize the critical enabling capabilities brought by space assets, recognize the changing space environment, and want to address near-term gaps to improve capabilities and make them more resilient."
To be viable for the long-term, the DoD wideband space architecture must have integrated command, control, and operations. It must be agile, resilient, and flexible with the ability to utilize and optimize the frequency band across mission types, geographical locations, and a range of applications. This agility and resiliency will contribute to overall mission assurance. Additionally, this architecture will require flexible acquisition methods more common to the commercial industry, such as those being explored by the Space and Missile Command's Pathfinder programs.
The commercial space sector is well suited to help the military obtain situational awareness and defensive capabilities. However, to maintain optimal agility and flexibility, commercial SATCOM must be designed into the space architecture from the beginning. Once commercial is part of the long-term fabric in a way that is demonstrated by the Pentagon's planning and spending, commercial will respond and ensure systems meet the needs of the DoD—whether technical innovation or cybersecurity.
In many cases, commercial is already ahead of the government in these things. In other cases, it may just take a strong signal from government to cause commercial providers to pull forward some feature in their technology roadmaps.
Rory Welch, vice president of Engineering and Service Delivery at Intelsat General, was also quoted recently in the press talking about the future of space. In an interview with Global Military Communications magazine, he said:
"Commercial can bring solutions in to meet the needs that the government can't fill quickly with its own projects. The next generation components that will be flying on the next generation of WGS satellites, for example, are already installed on our satellites, and I think that's been very helpful for the government. We're trying to use the government to direct our innovation, rather than innovating for the sake of innovation."
Commercial innovation also extends to meeting more demanding performance requirements. IGC has tested many tactical terminals ranging in size from 45cm to 1.3m on the Intelsat IS-29e high-throughput satellite (HTS) and achieved efficiencies up to 2.8 bps per Hz. This is easily an improvement of two to three times over typical wide beam satellites. Next generation ground modems being rolled out this year are expected to achieve efficiencies up to 3.5 bps per Hz on EpicNG-class satellites.
The Predator/Reaper SATCOM package was also tested on IS-29e, using both legacy waveforms and an interim release of the bandwidth-efficient waveforms being implemented by the Air Force. In the same occupied bandwidth, IS-29e enables 2.7 times the data rate to be transmitted. This type of performance improvement is exactly what the U.S. DoD is looking for to accommodate higher throughput requirements and smaller antenna footprints for their expanding mobility requirements.
Commercial SATCOM offers a number of other benefits as well. Commercial services are not only cost effective, but they can also free up limited military personnel to focus on maintaining U.S. dominance in space and increase resiliency and redundancy to operations. The enhanced performance of HTS is very conducive for a move to a more managed services procurement model, as government customers face continually accelerating bandwidth demands.
We're living in a time of technological disruption, and that disruption is impacting space communications. Now more than ever, it's critical for governments to avail themselves of new capabilities already operational in commercial networks. Not only should commercial capacity be part of military planning, it also needs to be designed into future space architecture.