Government SATCOM – Change is Coming, One Way or Another
March 08, 2018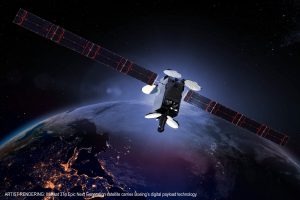 Disruption or innovation – which term most accurately describes the government and military markets for commercial SATCOM? That's the question posed by a thought-provoking article published last week by research firm Northern Sky Research.
The article addresses head-on something not often discussed openly by commercial providers: the government can be a difficult customer to serve. Unique security requirements, lengthy and unwieldy procurement rules and the inability to commit to anything but short term contracts create significant differences between government and commercial SATCOM customers. Commercial SATCOM providers have worked hard over the past 25 years to overcome these obstacles and be a reliable partner in space.
Now however these obstacles are becoming increasingly untenable. New technology and new business models have fundamentally disrupted the commercial SATCOM industry. From the NSR article:
"Today, "Disruption" and "Innovation" are the common bond between incumbents and new entrants. "New Space" players routinely ignore or discount government customers in business cases. Commercial end-users are shifting towards an application-centric view of their network performance – and largely assume that the 'connectivity part' just works. Service Providers are diversifying their revenue streams to include non-connectivity services such as hosted media platforms, Big Data analytics portals, and cyber security solutions."
Specifically, NSR identified three trends that will either force innovation or disrupt the supply of commercial SATCOM to government customers:
The move to "Everything-as-a-Service" – the commercial industry is moving swiftly to service-centric business models.
HTS technology – all the major commercial providers are executing on their HTS strategies, and tailoring this big increase in capacity to end-user requirements is an important part of the deployments. If government end users don't adapt now to this shift, NSR believes that they may find the additional "'Gbps of capacity' being launched is largely unsuited or unavailable to meet the Gov & Mil mission requirements."
LEO and MEO strategies – HTS does not always mean GEO satellites. However, taking advantage of this new supply of next-generation SATCOM will required the government to greatly accelerate the pace of its technological refresh of terminals and networks, something the article calls "revolutionary."
SatCom Frontier reached out to NSR senior analyst Brad Grady, the author of the article, for additional comment. He pointed out that government has changed its approach to technology in other aspects of IT:
"Change happens in government and military when the value proposition becomes overwhelming," said Grady. "As I write in the piece, cloud and virtualization efforts have changed the face of government IT in other areas. The dramatic performance improvements delivered by HTS could be the catalyst for change in SATCOM, and HTS lends itself well to a move to end-to-end managed services."
We've previously written about how technology in space is finally catching up to the profound advancements in terrestrial IT infrastructure and networks, something many call the fourth Industrial Revolution. Along with other commercial providers, Intelsat General is putting the most advanced technology in the world at the disposal of our government customers.
We are dedicated to working with our customers through this period of change, ensuring that the right processes and procurement models are implemented to take full advantage of commercial innovation in space. This kind of collaboration is the best way to preserve the national security advantage in space for decades to come.