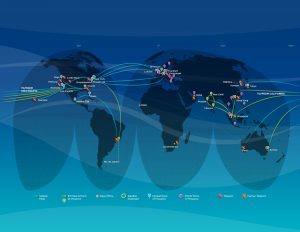 Representatives from governments around the world will be gathering in London in early September to learn more about how high-throughput satellites (HTS) are transforming space architecture and delivering performance that dramatically exceeds that of traditional wideband satellites. In presentations by Intelsat General Corporation's Global Government Group, attendees will learn how HTS' flexibility and resiliency make satellite communications a viable option for a range of new form factors and applications. In order to meet advancing communication needs, governments are looking forward and planning their migration to HTS systems. Moving from today's SATCOM to HTS will be akin to the terrestrial move from dial-up access to broadband. Current U.S. government-operated
Wideband Global SATCOM (WGS) satellites
leverage technology over a decade old to deliver approximately 3 Gbps of throughput compared to 10 times that on Intelsat Epic
NG
satellites. HTS satellites increase performance dramatically as well. In recent testing, Intelsat General Corporation customers and ecosystem partners have documented a 165% increase to throughput using existing ground equipment and up to a 330% improvement in throughput using next generation equipment. To help international governments address their space communication needs, Intelsat created the Global Government team. The
Global Government team
is dedicated to addressing the unique requirements of our non-U.S. government customers. The international team, which includes staff from Europe, the Middle East, Africa, and Asia Pacific regions, is charged with ensuring that our international customers receive the full breadth of Intelsat experience and best practices. To that end, the Global Government team is holding a workshop in London on Monday, Sept. 11. Industry players will have opportunities to meet, network and see HTS performance for themselves. Presentations will include:
An update on the Intelsat EpicNG satellite fleet, the world's first true HTS.
How en-route communications, ISR and VIP high data rate communications can now be supported worldwide.
An introduction to GigaSat and its MIL-STD-810 certified and WGS/DSCS approved antennas and systems.
An introduction to Paradigm Communication Systems and its multi-band satellite terminals.
The possibilities of LEO/GEO integration.
HTS is changing the game, both for military and civil applications. Join us this Sept. 11 and let us lay out the new possibilities.
Link to more event information/registration.
Related Posts