Gen. Hyten Will Bring Multi-Domain Experience to STRATCOM
September 28, 2016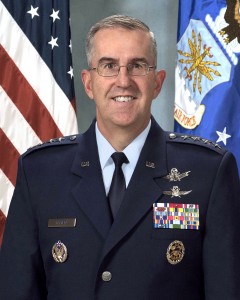 Gen. John Hyten, long a champion of linking space and cyberspace domains in U.S. defense planning, is expected to get a chance to further that advocacy in leading Strategic Command.
President Obama nominated Hyten, who has headed Space Command for two years, to lead the Strategic Command (STRATCOM) on September 9. The Senate Armed Services Committee voted approval of the nomination on September 22 after a lengthy confirmation hearing on September 20. The last hurdle is a vote by the full Senate.
Hyten would replace Adm. Cecil Haney at STRATCOM. Hyten would be replaced at Space Command by Lt. Gen Jay Raymond, currently the Air Force Chief of Staff for Operations. On Friday, the Senate also approved the nomination of Lt. Gen. Samuel Greaves to head Missile Defense Command.
In his "Commanders Strategic Intent" in April, Hyten expanded the definition of battlespace that must be defended to include geosynchronous orbit, where the nation's military and commercial satellites hold the key to the continuous communications necessary for national defense. Without it, he said in a "60 Minutes" interview in 2015, the military fights a World-War-II-type, pre-Industrial-Age battle.
Space is an environment where the United States is becoming more capable, with the addition of high-throughput satellites such as the Intelsat EpicNG constellation. But the space environment is also becoming increasingly crowded and contested, Hyten has said on many occasions, building awareness in every audience he addresses. During Hyten's confirmation hearing, Sen. John McCain (R-Ariz.) indicated he only recently understood the potential peril in space when he learned that China and Russia are building weapons "specifically designed to cripple U.S. systems."
Hyten told the committee that space control programs and a battle-management command and control system should be among the Department of Defense's top priorities. He has long sought to remove redundancy in current space control by combining six different systems into one. Industry is seeking to operate that system, freeing the military to expand training for battle management.
In written testimony, Hyten also attempted to clear up differences in the mission of the Joint Space Operations Center (JSpOC) at Vandenburg Air Force Base, Calif., and the recently created Joint Interagency Combined Space Operations Center (JICSpOC) at Schriver Air Force Base in Colorado Springs.
The JSpOC is focused on the terrestrial fight, while the JICSpOC handles the conflict that extends into space. "If we tried to integrate either with the other, both would be at significant risk of failure," Hyten said.
During a keynote address at the Air Force Association's Air, Space & Cyber Conference on September 21, Deputy Defense Sec. Bob Work called the JICSpOC "the first operational organizational construct of the Third Offset," DoD's mission to keep a U.S. military advantage ahead of potential adversaries for the next two to three decades.
Two days earlier at the conference, Gen. Raymond made clear that he will take a multi-domain perspective into his new job at Space Command. He said Desert Storm was the first conflict in which space capabilities were integrated into wartime operations.
Industry, including Intelsat General Corp., provided satellite support that eventually carried 80 percent of the military's communications needs during that war.
"I would just say that we are working – just like we have done in other domains –to integrate everything into the fight, and we're doing that more than what we've done in the past," he told C4ISRNET. The integration is "very analogous to space capabilities [because] we worked very hard over the years to integrate space capabilities."
At Space Command, Raymond would inherit the Space Enterprise Vision (SEV) from Hyten, who could continue his support at STRATCOM. The SEV outlines moves to build resilience into the military's satellite capability and improve situational awareness in space. It also seeks to commercialize some space operations.
Even before testifying in his confirmation hearing, Hyten made clear his posture on global multi-domain integration, calling it a "significant challenge. … In other words, how do we effectively integrate our forces to fight seamlessly on the land, at sea, in air, in space, and in cyberspace."
These leaders are being promoted during a critical time. The DoD faces a number of decisions and challenges as it seeks to maintain and enhance space capacities that are second to no other nation. Based on their stated goals and priorities, these are the right people for the job.