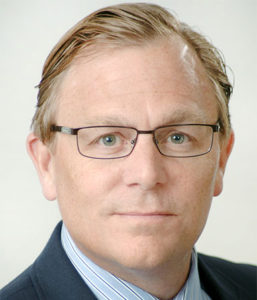 As we prepare for a number of important military space conferences this fall, I'd like to report on progress made on our major 2017 priorities. Fruitful partnerships are helping us to expand the breadth of our services, thereby making satellite communications available for commercial and government customers operating almost anywhere in the world. Key to this service expansion is Intelsat's continued partnership with OneWeb. OneWeb passed two major milestones this summer that bring us closer to offering new broadband capability to government customers. OneWeb received approval from the Federal Communications Commission to operate in the United States, and its satellite production began at an Airbus factory in Toulouse, France. A second satellite production factory near the Kennedy Space Center in Florida is also in the works. According to Airbus, production of OneWeb's 700+ satellites will eventually reach a pace of three satellites per day. We look forward to collaborating with OneWeb to develop integrated
GEO/LEO services
that will enable government customers to have critical fixed and mobile communications anywhere around the globe. Adding
OneWeb's low-latency LEO broadband capacity
to our global fleet of GEO satellites will offer government customers an unprecedented level of coverage. Our partnerships with electronically-steerable antenna developers will help make LEO connectivity a reality for customers. In June,
Intelsat partner Kymeta
began shipping its flat-panel antennas, which use electronic beam-steering instead of mechanical parts to follow a satellite across the sky. This is critical for connecting to OneWeb's constellation of LEO satellites, which require connections to pass from satellite to satellite as they orbit the earth every 100 minutes. Kymeta's design also makes satellite communications a viable option for new airborne, maritime, and ground-mobile use cases. Partnerships with other antenna developers will facilitate the availability of flat, light-weight antennas that will be well-suited for in-flight communications from aircraft carrying government officials, as well as a smaller class unmanned aircraft systems that could be used for non-military operations anywhere in the world. Meanwhile, our own fleet of satellites continues to grow. This summer we launched the newest
Intelsat Epic satellite
, Intelsat 35e. The satellite's Ku-band services include customized high-powered wide beams for mobility and government applications in the Caribbean, trans-Europe to Africa, and on the African continent. At Intelsat General, we understand the innovative power that reliable, secure and cost-effective satellite connectivity delivers, and we continue to look for opportunities, whether they be through internal development or commercial partnerships, to expand those capabilities to our government customers.
Related Posts