Ensuring U.S. Leadership in Space and the Value of Partnerships
April 01, 2016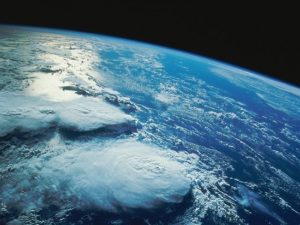 A new paper, Ensuring U.S. Leadership in Space offers great insight into issues that may affect future U.S. competitiveness in the space arena. The product of 13 space organizations, the paper cites four issues that require "immediate attention" to prevent the United States from losing its space leadership position:  Budget uncertainty; international competition; the increasingly congested and contested space environment; and workforce trends.
The value of this paper is that it highlights the key policy issues the United States must address if it is to continue to control the ultimate high ground in space. I am pleased to say that many of the nation's space leaders are aware of the issues and working steadily to address them.
In the national security area, Winston Beauchamp, the Deputy Undersecretary of the Air Force for Space, stated the problem best:  the "secret is out" to our adversaries; U.S. and allied reliance on space, and the things we get from space that give us "a qualitative and quantitative edge over adversaries also makes space an irresistible target."  Both he and other leaders in the United States government are pursuing different, yet related paths across all relevant space mission areas to improve coordination, promote resilience and reduce costs.
In particular, U.S. government leaders are encouraging innovative partnerships with private industry and others to enhance and support government endeavors in a more resilient and affordable manner.  Lt Gen John Raymond, USAF's Deputy Chief of Staff for Operations, has stated that one of the biggest holes USAF needs to plug is partnerships with the intelligence community, Allied Nations, and commercial entities. He was a staunch advocate of the Commercial Integration Cell at the Joint Space Operations Center.
As a founding member of this critical endeavor, Intelsat agrees with his approach and the value of more integrated government and commercial operations.   "We've got to get better at that … and we're working hard to develop those partnerships," Lt Gen Raymond said recently.
Across the board, U.S. government leaders are working to solve the issues highlighted in the Leadership in Space paper and all have mentioned the importance of improving partnerships with industry:
General John Hyten, Commander, Air Force Space Command, has unique and forward thinking plans to improve organizing and equipping of space forces.
Maj Gen Roger Teague, Director, Space Programs, Office of the Assistant Secretary for Acquisition, is promoting different ways to improve Air Force acquisition of space systems and has asked for industry input.
Doug Loverro, Deputy Assistant Secretary of Defense for Space Policy, is focused on broad space policy and strategy issues to promote deterrence and improve resilience of space forces in an era of increased reliance on commercial capability;
And of course the previously mentioned Winston Beauchamp. In his new role, he has clearly highlighted the importance of working across all sectors of industry to provide smarter, less expensive and more resilient architectures in space.
Congress is involved in this effort as well, with acquisition and other reform legislation supported by such leaders at Rep. Mac Thornberry, Chairman of the House Armed Services Committee, and Rep. Jim Bridenstine, a member of Armed Services' Sub-committee on Space, Science & Technology.
The leadership paper lays out the challenges the U.S. government faces in stark detail, and overcoming these challenges won't be easy. Many USG leaders are promoting innovative solutions that include meaningful partnerships with industry and Allies. These solutions include commercializing some space activities to allow USG personnel to focus on more specialized missions; promote resilience through distribution, diversification and disaggregation; and taking advantage of commercial acquisition and operations approaches to provide savings and improve mission and information assurance.
The threats to U.S. leadership in space are real.  While the issues are difficult and the dollars are scarce, through partnerships the United States is up to the challenge.