Emergency Response Preparedness Requires the Right Land Mobile Solution
September 04, 2020
Intelsat General
Proper preparedness is the backbone of any emergency response team. This allows team members to hit the ground running with little to no delays.
There are many factors that must be considered for effective emergency response readiness. Among them, a reliable communication channel that provides quick information access remains an important component for mission-critical success. To this end, advanced connectivity technology with high-data rates and rapid deployment capabilities should be a top priority for any emergency management preparedness plan.
To supply the best network service possible, service providers supporting public safety agencies and emergency response teams must be aware of the landscape impacting these sectors. This includes the current trends of evolving data and communication demands of emergency responders, the limitations of traditional networks and how increasing disasters further disrupt these networks. Additionally, service providers can benefit from a greater understanding of how to overcome these limitations and disruptions with the right land mobility solution.
Evolving data and communications needs of emergency responders
Evolving data and communications needs of emergency responders have created new drivers for maintaining reliable network connectivity.
Emergency relief teams are increasingly deployed to areas with inadequate or severely damaged communication infrastructure. This leaves team members limited in their ability to communicate, which can severely inhibit mission-critical goals.
Many operations now rely on data-heavy applications to provide and support tactical interoperable voice, video and information systems. These range from e-medicine and telehealth to coordination and logistics support. In some instances, though, data needs are rapidly outpacing the fixed offerings of current low-data plans. First responders found this out the hard way when trying to fight back the massive Mendocino Complex wildfires in California in 2018, and they found themselves up against the data speed restrictions. This evolution of emergency management data and communications needs has advanced to the point where response teams now face the limitations of traditional networks.
The limitations of traditional networks
Emergency response teams are increasingly running up against connectivity obstacles created by the limits of traditional networks.
Take two-way radios. While these work for short-range communications, responders dispersed across a large region can't collaborate, as transmission reliability greatly diminishes outside of a constrained radius. Additionally, these devices lack any means to transfer data, which is vital for information sharing and many applications required during an emergency event.
Another significant factor to consider involves the location of the incident. More and more rapid response teams deploy to areas with insufficient communication infrastructure – there's a lack of communications coverage in these remote regions. Whether it's a hurricane-ravaged island or a wildfire in an unpopulated location, these areas don't have the infrastructure in place to handle any sudden surges in network activity. Backup terrestrial coverage solutions are also subject to longer deployment and set-up times.
When working with many legacy networks, response teams often need to spend a significant amount of time positioning antennas, configuring networks or speaking with a service representative to get networks up and running. Even once these networks are up and running, low data rates lead to slow and ineffective information flow. These delays inhibit the ability to make critical decisions, which can negatively impact mission success. In some instances, these delays can even be the difference between life and death.
Further, pricing and service options tend to be insufficient and costly. Many traditional network services require end users to lease bandwidth on a full-time basis in order for the terminals or antennas to remain ready for surges. However, this also means that the network may sit idle for long periods of time, all while still paying for service, typically at extremely high per-minute rates.
Disasters further disrupt traditional networks
In addition to the limitations of traditional networks during optimal times, natural disasters can further burden networks with surges and service disruptions. Restoring disrupted coverage takes time and, in some cases, is not always possible.
When a disaster hits, one of the first casualties is often the terrestrial networks. Hurricanes, wildfires and flooding can wreak havoc on cell towers, leaving them vulnerable to power outages, system overloads or severe damage. This ultimately knocks out phone lines and leaves response teams unable to effectively communicate.
Consider these sobering statistics:
More than 95 percent of wireless cell sites in Puerto Pico went down during Hurricane Maria. These networks remained out for weeks.
While Hurricane Harvey only knocked out about 4 percent of cell sites across 55 counties, several Texas counties experienced 80 percent cell blackouts.
Hurricane Sandy knocked out 25 percent of cell towers in affected regions, spread across 158 counties in 10 states, from Virginia up to Massachusetts.
Even the 2011 earthquake in Mineral, Virginia, which didn't cause major damage, still overloaded the cell phone networks across a large swath of the East Coast.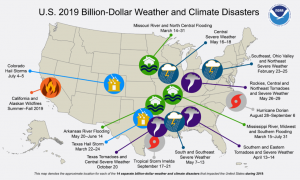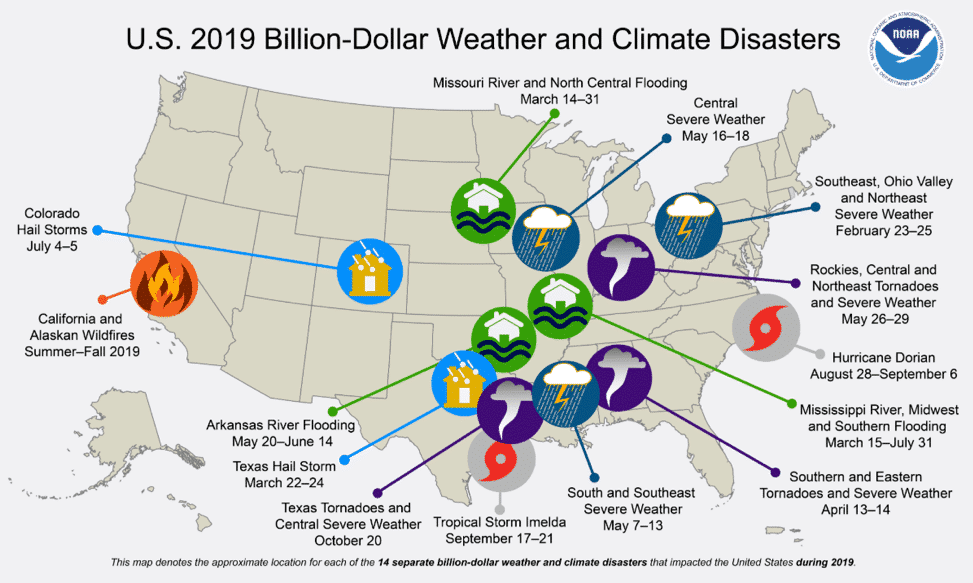 In each of these instances, the inability of emergency responders to effectively communicate and transfer data impacted their mission-critical goals. When disaster strikes – and it will – it's imperative that emergency responders and relief teams have the communication technology they need to succeed already in place.
High-throughput satellite meets the needs of emergency management teams
These trends discussed above have created a new paradigm that must be addressed by service providers. No matter the situation, disaster relief and emergency response teams need access to a secure and reliable network, wherever they're deployed. The best laid plans can easily go sideways because of the uncertain, demanding and chaotic situations following large-scale extreme events.
Mitigating this uncertainty requires easy-to-deploy solutions delivered on a cutting-edge high-throughput satellite (HTS) network that can provide situational awareness and immediate access to reliable, high-data rate communications using compact mobility antennas.
Response teams must also be able to rely on secure and redundant communications to keep their data and transmissions safe. Additionally, response teams need an established pricing structure that allows for the intermittent and unpredictable data usage typical of emergency management operations, and all without having to pay for unused data.
FlexMove for Government from Intelsat General meets all these needs and more. Check back soon for a discussion on how Intelsat General's FlexMove for Government uses HTS to help incrementally close the technology gap in land mobile connectivity for public safety agencies and emergency response teams.
This article first appeared in emergencymanagement.com.