DoD's Welby Wants Technology Development to Move Faster
July 28, 2016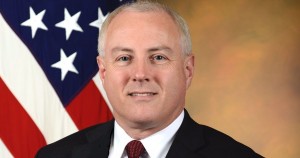 Stephen Welby uses a beach analogy to describe his mission as Assistant Secretary of Defense for Research and Engineering, and for the Department of Defense's quest for a Third Offset Strategy.
"To surf the wave of global innovation, we must paddle out in front," he says at every stop in what has been a whirlwind seven months since he was confirmed by the Senate.
As the DoD's equivalent to a Chief Technology Officer, Welby leads a charge for change at the Pentagon.
"I've testified on the Hill that I do not expect to see in the future any more decadal development programs," he told the United States Geospatial Information Foundation's GEOINT 2016 in Orlando in May. "A 20-year development program for a military capability is 20 years that an adversary has to build countermeasures before you deploy it."
Speed is why Welby seeks greater involvement with academia and the commercial industry in technology development. For example, it only took three years from design to the January launch of the first Intelsat EpicNG high-throughput satellite that will revolutionize commercial SATCOM. The second EpicNG satellite is due to launch this month. Compare that with the decade-plus timeline of the Pentagon's Wideband Global Satellite (WGS) constellation, and it's easy to see why Welby is harping on moving much faster.
"The Third Offset is much bigger than technology," Welby said at GEOINT 2016 of the DoD's desire to forge a long-term edge over potential adversaries. "[The Third Offset] is really about how the department thinks about its future in a competitive national security environment. We realize that technology is going to be at the core of that. [But] I think we're all convinced that in the future we're going to have to turn the innovation engine in the department at a much faster pace. In the future, we're going to have to out-innovate our adversaries."
Innovation has driven most of Welby's 28 years in government service, from time in Army research, to serving in senior leadership with the Defense Advanced Research Projects Agency (DARPA), to time in the Pentagon. He has worked on aeronautical and space systems, robotics, advanced weapons, software and sensors.
DARPA helped forge his mindset:
"What I discovered … was for those few precious years, I was living in the future," he said in a webcast on C4ISRNET. "The folks [there] are imagining how technology is going to shape, not just the future of the Department of Defense, but the future of the world. And their mission is to make it happen fast."
After enjoying a 40-year military technology advantage, the U.S. is "on the wrong side of the cost and capability curve, where our speed to delivery and cost to delivery hinders us, where others have been able to demonstrate much faster times," he said in the webcast.
Welby sees the commercial industry's speed-to-market as a competitive advantage. He wants it to be leverage for the military. To that end, the Pentagon has established the Defense Innovation Unit Experimental (DIUx) in Silicon Valley as a way to become faster at adopting new technology. A new DIUx location opened recently in Boston. But Welby knows that those units are hardly the only places on the cutting edge of technological development.
"I hate the continuous drumbeat about Silicon Valley. We use that as shorthand for centers of innovation," Welby said at GEOINT 2016. "Quite frankly, all interesting ideas don't emerge from the area around the San Jose airport."
"The Department must carefully select those areas where we must invest to lead technology development," Welby told the House Armed Services Committee's Subcommittee on Emerging Threats and Capabilities in a February 24 statement. "We must also identify those areas where we want to partner with academia, industry and our international partners in shaping technology development. By engaging early, DoD can shape the technology environment and drive a focus on speed from lab to field."
The commercial space industry has long sought early engagement and a clear seat at the table with government customers. It would make commercial an even more valuable partner in space.
In many cases the innovation already exists – all the government needs is to be willing to "paddle out in front."