Cultivating the Next Generation of Leaders in Space
July 19, 2017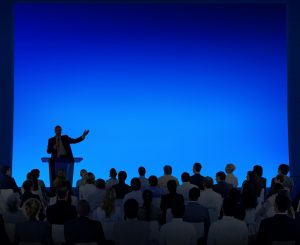 I'm privileged to be working at Intelsat General this summer and recently attended the Future Space Conference held on Capitol Hill. This annual event is hosted by the Future Space Leaders Foundation, an organization that provides young space professionals with a range of learning and specialized enrichment opportunities. While the conference was meant to give audience members an inside look at the aspirations of space and satellite leaders, what struck me most was the changing demographics of the satellite industry.
As I sat in the Hart Senate Building, I was surrounded by a roomful of men and women in roughly equal proportion. This was in large part thanks to the Brooke Owens Fellowship attendees, a selective program of 36 undergraduate women seeking careers in the aerospace industry. Along with the fellows, attendees included college interns like myself working at prominent space and satellite companies as well as industry leaders from widely respected firms such as Lockheed Martin, Blue Origin, Avascent, Ball Aerospace and others.
The morning consisted of three discussion panels led by space-industry executives that debated the shifting paradigms in government-industry partnerships, manufacturing projects in space and new breakthroughs in space markets. Additionally, the conference included keynote addresses from Rep. Brian Babin (R-TX), Rep. Derek Kilmer (D-WA), Rep. Jim Banks (R-IN) and Rep. Barbara Comstock (R-VA), each of whom spoke about their various agendas in achieving new breakthroughs in space.
Despite the wide array of speakers at the Future Space Conference, they all echoed the same sentiments – that space explorations need to continue being properly funded and that the space industry needs to be more open and encompassing of women in order to continue its progress.
Congressman Babin shared his belief that a private-sector space economy is well within America's reach, but requires cooperation between both the public and private domains to achieve this goal. Additionally, he shared his fears that America's presence in space is becoming more of a contributive role rather than a leading one. However, he later expressed hope that with proper funding, America will regain its position as the world's leader in space innovation.
Congressman Kilmer echoed Babin's sentiment and pushed even further, stating that government budget cuts create a source of unpredictability throughout the space industry and that it is essential for America to keep its space funding in order to continue its role as a leading space power. Additionally, Kilmer stressed the importance of education in helping future space markets take off, emphasizing that the space industry needs to actively recruit women and racial minorities.
Mike Gold, vice president of satellite manufacturer SSL, also spoke to diversity in the workplace during his panel on space markets, saying, "the more diverse the workforce is, the more diverse the ideas will be," which he said helps to drive innovation. Congresswoman Comstock also shared in the push for diversity in her keynote address, calling on young women to be fearless and take risks in the space industry.
Overall, the 2017 Future Space Conference was very enlightening, not only because of the opportunity to hear from prominent space industry leaders, but also to look at the audience around me and see the progressive direction of the space and satellite industry.
Samantha Cooper is interning in Intelsat General's marketing department this summer. She is a rising junior at the University of Maryland, College Park and is majoring in communications with an emphasis on politics and rhetoric as well as minoring in history.