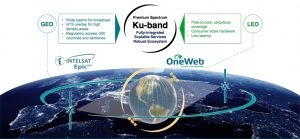 Recent media articles have taken a negative tone regarding how the government procures commercial technology in space. Last month
SpaceNews
went as far as stating in a headline
that the military "can't decide what to buy." We think that's an exaggeration. Certainly, the government needs to streamline its acquisition processes, and it is exploring how best to do so. An example of these efforts will come in May with the release of the highly anticipated DoD wideband SATCOM Analysis of Alternatives (AoA) report. Even the
SpaceNews
article cites the AoA and admits that "the likely conclusion is that the military needs a mix of government-owned satellites and commercial services." In addition, there have been changes in the National Defense Authorization Act that indicate a growing consensus for change. Among other things, language in the act assigns acquisition authority for COMSATCOM leases to the Commander of Air Force Space Command in consultation with the DoD's Chief Information Officer, beginning in December 2018. Another curious aspect of the article was the either/or description of LEO and GEO satellite constellations. The technologies are actually complementary, each having pros and cons that balance the other. GEO satellites excel at broadcast and backhaul functions, and one satellite can provide coverage to an entire region of the planet. LEO satellites can provide faster throughput and reduce latency, but require a very large number of satellites that constantly need to "hand off" connectivity. We believe it's not a zero-sum game, and that a hybrid offering of LEO and GEO capacity delivers great value for the government customer. That's the rationale behind our investment in Intelsat partner OneWeb's upcoming LEO satellite constellation. We look forward to collaborating with OneWeb to develop integrated GEO/LEO services that will enable government customers to have critical fixed and mobile communications anywhere around the globe. LEO might provide a template for how the government can leverage commercial constellations, not just bandwidth, in space. The Defense Advanced Research Projects Agency (DARPA) is studying how to take advantage of commercial investment and technology in LEO constellations through a program called Blackjack. The
SpaceNews
article quotes Fred Kennedy, director of DARPA's tactical technology office, talking about the program:
"With Blackjack, 'we are going to go marry up with the commercial sector,' he said. Among the hot technologies are the new low-Earth orbiting (LEO) constellations. Kennedy would like to see the military adopt some of the business ethos of the space industry that mass-produces satellites and doesn't 'test, check and review everything until the cows come home,' he said. 'We have to get out of that mode.'"
To adapt to new technology and to a dramatically different geopolitical climate, there is broad agreement that the DoD needs to procure new technology faster and more efficiently. Speaking during a session of the 2018 Future of War Conference, Defense Undersecretary for Research and Engineering Michael Griffin said that "US national security agencies must choose between maintaining their acquisition process or US preeminence, but we probably can't do both." That underscores how vital it is for the DoD and commercial providers to get this transition in space right. The commercial space industry has worked closely with the military for almost 25 years, and we're ready as always to do our part.
Related Posts