Adopting a New Procurement Model Will Not Compromise Network Security
March 01, 2018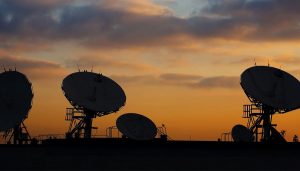 For more than a decade, commercial satellite providers have been working with the U.S. military and Congress to shift the government away from the mindset that it needed to own its own satellites in order to meet its mission and assure network security. A recent article in Space News, focusing on an Air Force budget request shows just how far that thinking has evolved.
"In the budget request that was submitted to Congress last week, the U.S. Air Force made investment decisions that just a few years ago would have been jaw-dropping," the article began. "A $7 billion surveillance aircraft program is being jettisoned in favor of an information network that connects sensors from across the battlefield and in outer space. And billion-dollar satellites known to be engineering marvels are being replaced by simpler, less costly platforms."
Further down in the article, an industry executive described rather graphically how satellite capabilities are evolving so quickly that military procurement models just can't keep up because the process takes too long, and the requirements are too complex.
"You design a Swiss army knife in some cases when all you need is a plastic spoon," said William LaPlante, senior vice president and general manager of MITRE National Security Sector. "The model has to change. You may have satellites that only last a year or two, do limited things. It's a totally different acquisition mindset."
There's no longer any need to build multi-billion-dollar satellite constellations that do everything. Furthermore, the U.S. government can move to an entirely new procurement model for these services, paying only for what it needs. IntelsatOne Flex is an example of a managed service model that gives the government the flexibility to respond to demand spikes and shifts in geographic coverage under a predictable price structure.
As for satellite network security, the commercial satellite industry has already introduced the highly secure services that the military needs and continually refreshes the technology so that it won't become obsolete. Commercial satellite providers like Intelsat exceed government requirements and continually evolve their countermeasures to ensure that they're delivering the most advanced security capabilities available.
Rory Welch, vice president of engineering and service delivery for Intelsat General Corp., was quoted in another Space News article, saying "We continuously evaluate the threat landscape. That allows us to adjust and adapt our countermeasures to address those latest threat actors and attack methods."
He added: "Threat actors are becoming more diverse and more capable. How they are able to attack systems continues to vary."
Intelsat and other commercial satellite providers incorporate enhanced security capabilities into new satellites to help reduce future risk. Intelsat's EpicNG high-throughput satellite fleet and associated ground network are built for security and resiliency with "redundancy in its infrastructure and diversity in its operations," Welch said.
Intelsat takes the most stringent of the information security recommendations from the Defense Department, National Institute of Standards and Technology (NIST), and the International Organization for Standards (ISO), and applies them against its network design. In addition, Intelsat's space-based and terrestrial network is audited annually by independent third parties to certify that it meets international security standards known as Systems and Organization Controls 3.
The performance and cybersecurity the U.S. government needs in satellite communications is readily available in the commercial satcom industry today. By changing its approach to procurement, the government can ensure it has access to the most innovative technology in space well into the future.