A New Level of SATCOM for Government – Intelsat 33e Enters Service
January 31, 2017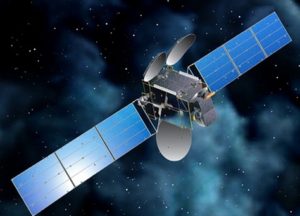 This past weekend Intelsat 33e, the second of the Intelsat EpicNG high throughput satellites (HTS), successfully completed all in-orbit testing and entered service on 29 January 2017.
Launched in August of last year, Intelsat 33e is equipped with the most advanced digital payload on a commercial spacecraft. With this exceptionally flexible HTS payload design, Intelsat 33e, operating from 60° East, will extend Intelsat's HTS services in C-, Ku- and Ka-band to Europe, the Middle East, Africa, Asia Pacific, Mediterranean and Indian Ocean regions.
The Intelsat EpicNG platform will provide three to five times more capacity per satellite than the traditional Intelsat fleet. The expected throughput of the satellites will vary according to application and satellite, but is expected to be in the range of 25-60 Gbps, typically 10 times more than traditional spacecraft.
"Many U.S. government customers are eager to begin using Intelsat 33e," said Skot Butler, President, Intelsat General Corporation. "The coverage Intelsat 33e provides is ideal to support U.S. Department of Defense mobility applications and means deployed forces in these regions will benefit from the same game-changing performance and efficiency that Intelsat EpicNG already delivers in the Americas and the North Atlantic."
Another advantage of Intelsat EpicNG is that it allows for a more protected level of commercial SATCOM. Anti-jamming capabilities are greatly enhanced with low-probability of intercept (LPI) and jamming-resilience on EpicNG satellites, even to non-hopping modems. Interference-mitigation capabilities like on-board power monitoring and notch filtering of interferers/unauthorized users as well as monitoring, re-routing, geo-location and identification of interferers means EpicNG SATCOM is better protected for deployment in contested environments.
Intelsat 33e is already attracting new customers. For example, Africa Mobile Networks (AMN), which delivers commercial service to previously unconnected rural areas in sub-Saharan Africa, will use the HTS services to help mobile network operators expand in these areas in a cost-effective manner and deliver social, economic, educational and other benefits to the population.
Intelsat EpicNG services were launched in March 2016 with Intelsat 29e, which is located at 310° East and offers a footprint spanning the Americas, the Caribbean, Eastern United States and the burgeoning North Atlantic region. Three additional Intelsat EpicNG satellites – Intelsat 32e, Intelsat 35e and Intelsat 37e – are scheduled for launch in 2017.
Intelsat EpicNG is a powerful validation of the innovation the commercial space industry can deliver for the government customer. Now more than ever, commercial stands ready to help bring the DoD into the next-generation of SATCOM.