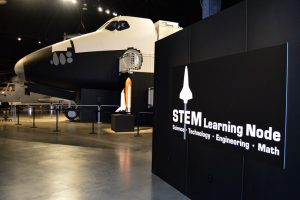 The world's first satellite, Sputnik I, went into orbit 60 years ago and was about the size of a beach ball. Its four antennas transmitted radio pulses. The most recent Intelsat EpicNG satellite that went into orbit this past September is as big as a school bus and can deliver 45 Gbps of broadband to an area covering Africa, Europe and South America. The evolution from Sputnik 1 to Intelsat 37e required the energy, hard work and brain power of tens of thousands of scientists, technicians, engineers, and mathematicians. To maintain that technological transformation, the commercial space industry needs to recruit the best and brightest in those four disciplines, now commonly known as STEM. Finding the next generation of space leaders can be challenging due to both the demanding academics of STEM college classes and also because the growth and cache of space companies in the past few years has made hiring talent more of a challenge for all of us. Intelsat General Corporation (IGC) has invested in an active internship program
and works with groups such as The Future Space Leaders Foundation
(FSLF), a tax exempt 501 (c)(3) non-profit organization dedicated to the career development of young space and satellite industry professionals in an exciting and growing field. IGC also works with the
Space Foundation
and Space and Satellite Professionals International (SSPI), which both offer scholarships to students in the field. Intelsat and IGC maintain a regular schedule of recruiting events. The companies average one university or diversity career fair per month. Company representatives serve as judges for Georgia Tech's aerospace engineering Capstone event, and have Georgia Tech students regularly visit our Atlanta offices and teleport. Intelsat also participates in the
GenesysWorks
program, which has two students from traditionally underserved high schools work half days in our IT department. This provides these seniors real IT work experience, and helps them with college applications. IGC makes extensive use of LinkedIn and other on-line resources when looking for STEM talent. The recruiting team has three pieces of advice for those looking to work in commercial space:
Make sure you have a well-developed resume that stresses your STEM-related activities, including competition and programs. Listing clubs and volunteer work can be helpful as well;
Have a professional-looking LinkedIn profile. Talk about the role you'd like to play in your next job, and join relevant LinkedIn groups and communities;
Attend community events such as symposiums, STEM job fairs (usually free) and conferences. Work to become comfortable with in-person dynamics, and talking about yourself.
IGC engineers also participate in STEM education through local school programs. Recently, Senior Sales Engineer Howard DeFelice volunteered his time at Thomas Jefferson High School for Science and Technology in Alexandria, Virginia. The students there are constructing a cubesat, both to "learn by doing" and to compare multiple communication methods for the purpose of creating a best-practices document. Howard told our staff he was amazed at how quickly the students picked up the concepts of space communication. The web site of the project
is located here
.
Those of us working in the space industry want to stimulate the growth and development that will transform today's students into tomorrow's space leaders. With government clients increasingly looking to commercial providers for a range of space products and services, our participation in STEM education is critical for maintaining our country's technological edge in space. STEM graduates who choose space for a career will find that the sky is – literally –
not
the limit to how far they can go.
Related Posts