2016 – An Exciting Year in Space
January 25, 2017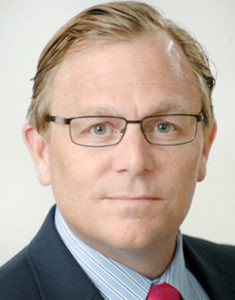 This past year brought a number of positive developments in the ongoing partnership between commercial satellite service providers and our government customers. Perhaps the most exciting was that Intelsat launched and deployed our next-generation high-throughput satellite (HTS) platform, Intelsat EpicNG, which has been in the works for several years. At the same time, an emerging consensus around the need for a new and more flexible partnership in space between commercial providers and the government continued to take hold among DoD decision-makers.
That new partnership will advance IGC's core mission — leading the commercial satellite industry in bringing value to our government customers. Towards that end, our launch of the first two Intelsat EpicNG HTS satellites was a huge leap forward. Testing performed on the IS-29e spacecraft over the Americas confirmed the transformative improvements delivered by HTS technology.
The Intelsat EpicNG platform will provide three to five times more capacity per satellite than our traditional fleet. The expected throughput of the satellites will vary according to application and satellite, but is expected to be in the range of 25-60 Gbps, typically 10 times more than our traditional fleet.
Intelsat customers and ecosystem partners are seeing a 165% increase in spectral efficiency with existing ground platforms (up to 330% efficiency improvement on next generation ground networking technologies), and up to a 300% improvement in throughput using next-generation antenna technology to connect to the Intelsat EpicNG® platform. The second EpicNG spacecraft, IS-33e, will bring HTS capacity this spring in both C- and Ku-band to the Africa, Europe, Middle East and Asia regions.
Remotely piloted aircraft (RPA) platforms, which are constantly being challenged to deliver as much data as their sensors can produce, is one area where Intelsat EpicNG will transform service delivery. Tests using a 15cm (6-inch) flat-panel antenna on the RPA transmitted at 3.9 Mbps to a 13.5m receive antenna. This is a first—more than 3x the throughput previously seen by Class III RPA using other satellite systems, exceeding the threshold data rate set by tactical Class III users, like SOCOM.
Another advantage of Intelsat EpicNG is that it allows for a more protected level of commercial SATCOM. Anti-jamming capabilities are greatly enhanced with low-probability of intercept (LPI) and jamming-resilience on EpicNG satellites, even to non-hopping modems. Interference-mitigation capabilities like on-board power monitoring and notch filtering of interferers/unauthorized users as well as monitoring, re-routing, geo-location and identification of interferers means EpicNG SATCOM is better protected for deployment in contested environments.
The Intelsat EpicNG platform is compatible with the U.S. Air Force's protected tactical waveform enabling an extra layer of defense to government communications and delivering more resiliency, more throughput and more efficient utilization of bandwidth. It will provide cost effective, protected communications over both government and commercial satellites in the C, Ku, Ka and X frequency bands.
Another milestone last year was a new program that allows the government to leverage this kind of performance as a fully managed service. IntelsatOne Flex will allow government users to efficiently access and incorporate HTS technology into new and existing networks. The DoD can seamlessly plug the world's largest and most reliable high-speed IP network in the sky into existing infrastructure. Network availability is guaranteed as Flex is unaffected by the vagaries of terrestrial contingencies and incorporates multiple levels of redundancies. IntelsatOne Flex represents a new class of commercial SATCOM service, available as needed with no requirement to invest in new infrastructure.
In 2016, discussions continued around how Intelsat General experts can offer value and free up military resources by operating certain government flight and ground systems. Notable among these are the Wideband Global Satellites (WGS) and the Air Force Satellite Control Network (AFSCN). We continue to look forward to real steps toward commercialization of the flight and ground operations here.
Speaking of WGS, at the end of the year, Frank Kendall, Under Secretary of Defense for Acquisition, Technology and Logistics, signed off on the much-anticipated Wideband Communications Services Analysis of Alternatives (WCS AoA) study. This willingness to explore how to leverage more commercial capacity to meet rising SATCOM needs is very encouraging. These conversations—the commercialization of the flight operations of the current WGS system, and the solution for what comes next in wideband architecture—are both in line with the Space Enterprise Vision laid out last year by Gen. John Hyten, who took over as head of STRATCOM from Adm. Cecil Haney in September.
I am less encouraged by the Government's willingness to adopt hosted payloads as part of their strategy to add resilience to their space architectures. I continue to believe hosted payloads on commercial platforms can provide for effective mission assurance. Other than a few small science missions from NASA, not much has happened in the HP arena since our groundbreaking deal with The Australian Defense Force to host a Boeing built UHF payload aboard IS-22, which launched in 2012 and delivered substantial reductions in cost and time to capability to the Australian military. This payload's capability, and our relationship with the ADF, have been some of the most productive and gratifying milestones of my career.
Just before the holidays, Congress passed and the President signed the FY17 National Defense Authorization Act (NDAA). At present the budget isn't expected to be presented until May, but we're encouraged to see that the 2017 NDAA puts in place a new policy for DoD procurement. Under the act, the DoD is to avoid using Lowest Cost, Technically Acceptable (LPTA) evaluations when doing so denies the DoD the benefits of cost and technical tradeoffs. This is a positive change, since the commercial satellite capabilities needed for national space leadership should not be bought like commodities.
American leadership in space is critical for the nation's defense. Together with the rest of the commercial space industry, we hope the incoming Administration maintains space as a top priority and continues the steps taken in 2016 towards a more collaborative government and industry partnership. Industry can provide solutions for space safety and orbital debris, and deliver new and innovative capabilities to keep pace in an increasingly competitive theater.