MWC Las Vegas
September 28, 2022 – September 30, 2022.
Las Vegas, Nevada.
We'd love to connect with you at the Las Vegas Convention Center September 28 – 30 to discuss how we can help you provide reliable mobile broadband coverage in rural and hard-to-reach areas within the United States and other rural locations around the globe.
Discover how you can gain more market penetration by including high-performing, cost-efficient satellite backhaul as part of your mobile network planning strategy.
Our event manager can put you in touch with one of our representatives.
You can also hear Hadeel Fayed, Intelsat's Head of Cellular Backhaul Product Management at Satellite @ MWC Las Vegas discuss Bridging the Cellular and Satellite Worlds: Case Studies from the Field.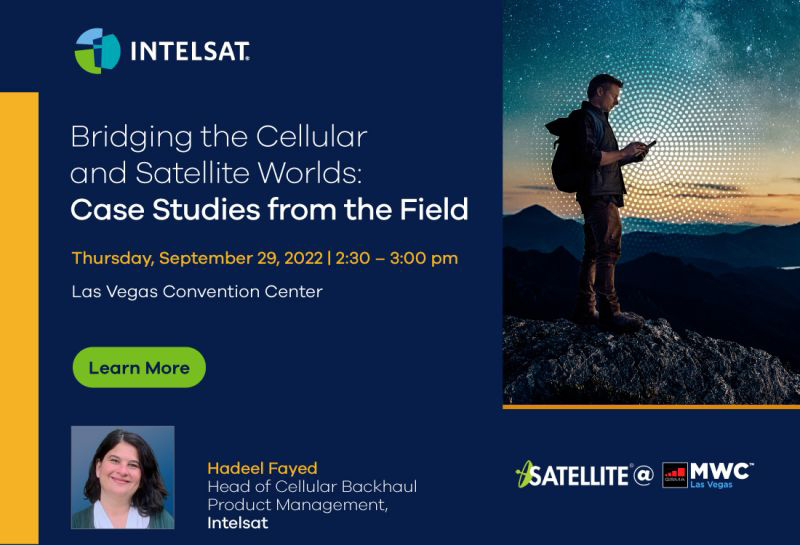 About MWC Las Vegas
MWC Las Vegas, in partnership with CTIA, is the GSMA's flagship event in North America, showcasing the hottest trends in connectivity and mobile innovation. This is where the ecosystem meets face-to-face to build strong relationships. And it's where we use our collective knowledge to accelerate technology and drive human progress. This is where the mobile ecosystem, technology industry and vertical industries affected by connectivity, come to explore the themes that are shaping our world.