Industry Leader in Commercial Aviation Excellence
Supporting the needs of the commercial aviation community has been our calling for the past decade. As the world's largest, most resilient space systems operator, our ability to create proven broadband solutions is what drives us to innovate and problem solve for the inflight internet demands of today and tomorrow.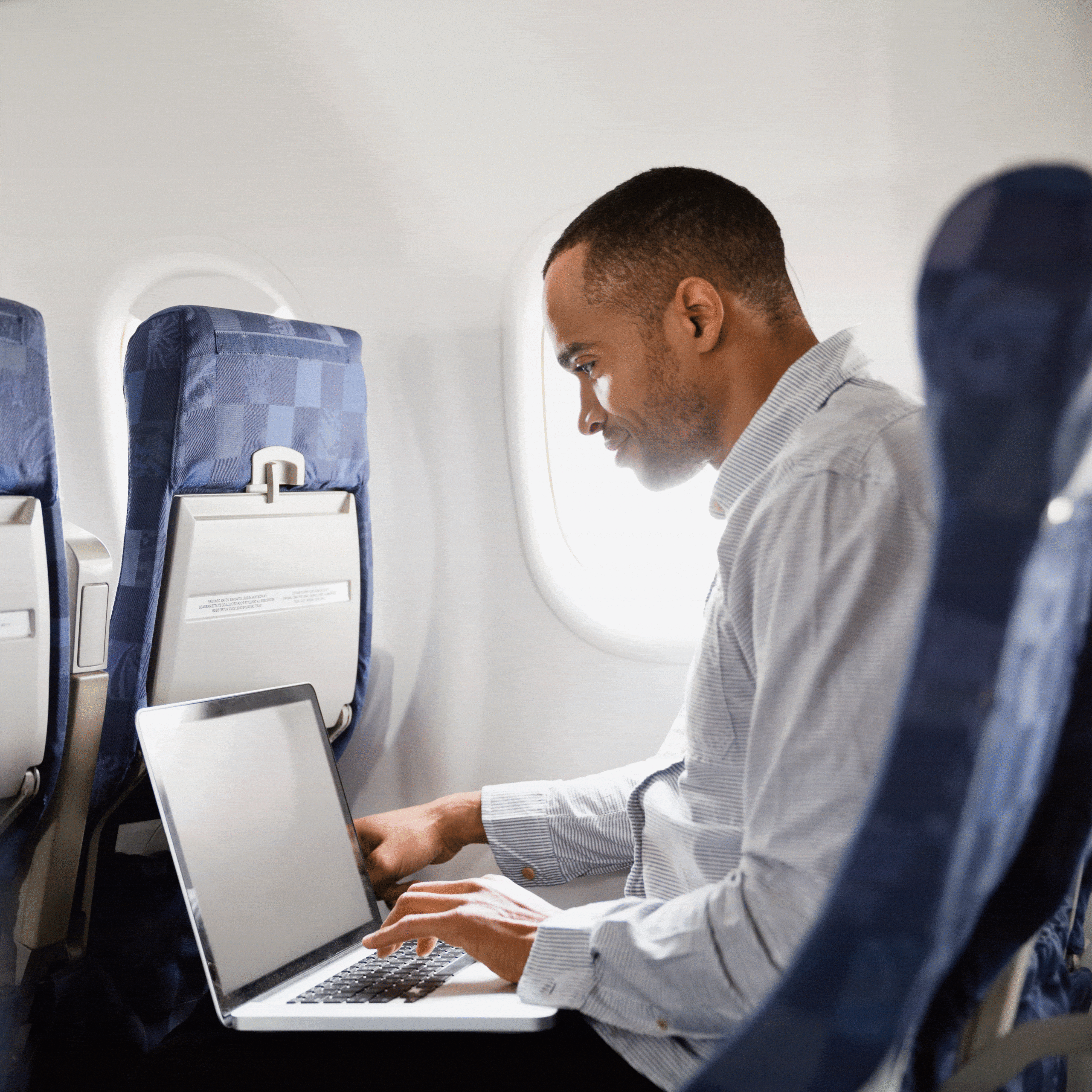 Rising Above Connectivity Challenges
When it comes to inflight connectivity, airlines all around the world must solve a host of complex business challenges.
Respond to increasing passenger demand for reliable, high-speed connectivity
Deliver on the passenger experience over high-traffic hubs and aero routes
Choose future-proof connectivity systems
With the power and performance of the Intelsat network, airlines can expect a consistent experience across their entire fleet of aircraft for every passenger, crew member, and application.
Leverage a premium inflight internet solution and boost passenger NPS to new heights.
The Intelsat Difference
Here at Intelsat, we understand that airlines and their passengers expect a reliable, consistent experience regardless of where they fly. With 80% of flight hours occurring in less than 20% of the world's geography, other satellite operators who offer uniformly distributed, single-layered coverage won't meet commercial aviation demand. That's why we continue to expand on the pioneering, future-proof, high-throughput satellite (HTS) Intelsat Epic fleet. The Epic fleet is engineered to provide added performance, resiliency and coverage flexibility to support evolving passenger experience requirements.
Our award-wining global, multi-layered Ku-band network is uniquely designed to ensure both high-density coverage and redundancy. We consistently ensure high amounts of capacity blanket the areas where airlines need it the most. A resilient network is key to delivering a premium passenger experience and to increasing brand loyalty for airlines as connectivity demand increases.
Intelsat and our partners enable airlines all over the world to deliver the inflight connectivity experience needed to keep their passengers connected. Whether streaming the latest movie, sending an email, or staying in touch with what matters most, expect consistent, on-demand connectivity. Our Satellite, Fiber and Teleport Services support unique connectivity requirements and can quickly scale to serve evolving business models.
Connectivity Built to a Higher Standard
The power and redundancy of the Intelsat network ensures a reliable and uninterrupted passenger experience. We empower service providers to deliver connectivity the way it should be, from anywhere in the world.
Fuel customer loyalty and keep customers connected seamlessly
Elevate the inflight connectivity experience with future-proof, open architecture solutions
Stream movies, send large files, video conference, stay productive
Reimagine the Inflight Connectivity Experience
Intelsat Finalizes Gogo Commercial Aviation Acquisition
Combining the world's largest satellite network with the leading provider of inflight internet brings unprecedented value to commercial airlines and their passengers. This creates a reality where airlines will no longer need to make trade-offs on speed, reliability, availability and coverage for inflight internet, even when flying at full capacity over the busiest airport hubs.
Learn how we plan to take commercial aviation to new heights.